The University of Kentucky Wildcats basketball team seems to be hated by everyone who isn't a Cats fan. That's understandable. Rupp Arena is filled with national championship banners, UK leads the nation in attendance year after year, the Cats lead the NCAA in all-time wins, and so far this season, UK is undefeated. It's easy to hate the Cats.

Maybe those of you who hate Kentucky basketball will find some solace in the fact that we Wildcat fans try really hard not to enjoy it.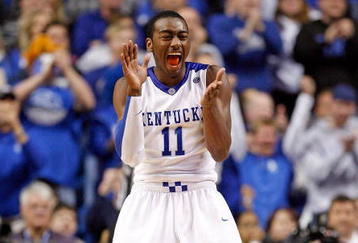 Cat fans are used to being hated, but it is a lot easier to tolerate if you live in the state. In fact, if you live in Kentucky and are surrounded by fellow fans, being despised is a badge of honor. It feels like envy. It's less fun if you live outside the state during basketball season in some place like, well, Chapel Hill, for example.
Any Wildcat loss— I don't care if it's an exhibition game— is devastating to Kentucky fans. But we don't stop there. A win by too few points is an "almost-loss" and we find that pretty depressing, too. This is a perfect fit for John Calipari. He recently reported that, despite the team's 16-and-0 record, they were 9-and-7 by his count.
We refuse to enjoy seven of our first 16 wins because we didn't win by enough. Calipari would argue that we didn't play well enough, but I don't see the difference; I assume if we had played better we would have won by more.
I would list John Calipari as another reason UK is hated, but let's be honest, Kentucky basketball had haters decades before Cal came along. (Billy Gillispie is the only Kentucky coach that opposing fans truly loved.)
I predict that the Wildcats will someday lose a game and our fans, instead of feeling great about starting the season with 20-odd wins, will be depressed. If UK were the only team allowed to play in the NCAA tournament, we'd spend the entire season wondering how we might lose it.
I would love to see a poll of Kentucky fans asking how large a margin the Cats need to make them feel good about a game. I doubt that 10 points is enough. Maybe 20, but 30 would be nice. After UK beat Florida 89-77 last night in Gainesville, it is clear that 12 points isn't sufficient for many of us.
A Twitter friend remarked this morning, "I'd love to buy the hype, but I see a day coming soon when the Cats fail in the last five mins," and then, "I just think we are running on too much luck. Ball handling looked like shit against FL and GA."
OK, we do have a lot of turnovers, but maybe not for a team that plays Kentucky's style of running the court at every opportunity. Regardless, it seems like a team that just beat Billy Donovan on his home court by a dozen could feel better than "lucky." Instead, we fret about turnovers.
(Donovan's haircut is pretty stale, by the way. Doesn't he realize that even Rick Pitino doesn't look like Rick Pitino, anymore?
A Cats blogger added, "Some of us noted during the game that Wall still doesn't look right. He did end up with 19 and seven of those came down the stretch, but I am concerned health wise."
Wall did end up with 19 points, and seven when we needed them most. Guess that was better than a poke in the eye with a sharp stick.
The biggest concern from UK fans this year is that John Wall will be one-and-done. What in the world will we do next year? I suppose we could consider that our competition didn't get John Wall for even one year, but that would be optimistic and border on feeling good, so we don't. Daniel Orton, not even a starter, blocked five shots that I can remember at Florida, three on the same possession. (If Orton were the chest-pounding, self-congratulating Joakim Noah, he'd have beaten himself to death last night.) Eric Bledsoe dropped 25.
Orton and Bledsoe will probably be around next year, along with several players on this team whose talents have been overshadowed by Wall, Cousins and Patterson. Who knows, maybe Cal will have a good recruiting year to boot; stranger things have happened. But we can't count on any of that, so we need to start fretting about next season right now. Otherwise, a 17-game winning streak would bring us joy. And, that's just not us.
We're not alone in this self-imposed wallowing. I remember Dean Smith saying that a loss at Kentucky was a catastrophe, or something to that effect, but Tar Heel fans weren't like that. Bullshit. When the Tar Heels lose a basketball game, this entire town is a different kind of blue. Lose to Duke and they're suicidal. A Tar Heel friend recently texted me that he was "still depressed about the Kentucky loss", two weeks after the game. I've seen the same from my Louisville friends and one who went to UConn.
If you hate us, at least be cheered by the fact that we don't really enjoy having a great team. At least, we try not to.